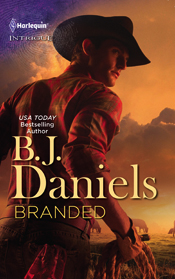 Handsome and wild, the Chisholm brothers were a force to be reckoned with – but so were the women destined to steal their hearts…
Responding to a 911 call, Whitehorse Deputy Halley Robinson is stunned to find herself face-to-face with her teenage crush, Colton Chisholm. The schoolboy who had teased her is now a strong and sexy man – and he's on a mission to solve a case! But if he plans on unmasking a killer, he's going to need her help.
Colton can no longer run from the truth… someone in his small town has gotten away with murder. Now it's up to him to bring the killer to justice – with the help of the local authorities, which, to his surprise, include Halley. The girl who had once idolized him is now a woman he must fight to resist. But as they work on the case, the attraction between them only grows stronger. Their rocky past may lead to a future together… unless the killer parts them forever.
PURCHASE ONLINE
Branded – Whitehorse Montana, Chisholm Cattle Company Series Book 1 of 6 May 2011; ISBN# 0373695438