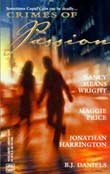 What do you give a mistress for Valentine's Day?
In the case of Peggy Kane, an expensive box of chocolates. But who planted the strychnine-laced sweets in the hotel penthouse?
Hotel detective Tempest Bailey suspects there's more to this romantic tragedy than just desserts.
This book features four novellas, including The Lovebirds by B.J. Daniels.
PURCHASE ONLINE
Crimes of Passion (The Lovebirds) Features four novellas, including B.J. Daniels' The Lovebirds January 2002; ISBN# 0373264070