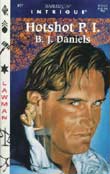 The prime suspect was a sleepwalker.
For the second time in her life Clancy Jones had awakened at a murder scene – this time with the murder weapon in her hand. Without recall, she insisted she was innocent, framed and the real killer after her. To the untrained eye, she looked mighty guilty. But to private investigator Jake Hawkins, she still looked damn good.
Desire for Clancy had always burned inside Jake; so had anger. Ten years ago Clancy sleepwalked onto another crime scene and her testimony had put Jake's father behind bars. Now Jake didn't know if he wanted to prove his seductive client's innocence – or guilt.
PURCHASE ONLINE
Hotshot P.I. April 1997; ISBN# 0373224176