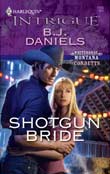 Handsome as sin and wild as the western wind.
That's the Corbett brothers for you, and Shane's no exception. No way is he settling down just because of some ridiculous marriage pact especially not with a cowgirl from smalltown Whitehorse who seems so young and naive. At least that's what this hardened lawman keeps insisting.
But when Maddie Cavanaugh is kidnapped and drawn into a world of violent greed and despair, Shane jumps into action. While he has no trouble subduing her captors, resisting the force of Maddie's charm is harder than he could've imagined, and it seems as if stubborn Shane may be the first of the Corbett boys to surrender his bachelorhood.
PURCHASE ONLINE
Shotgun Bride – Whitehorse Montana, The Corbetts Series Book 1 of 5 April 2009; ISBN# 0373693923