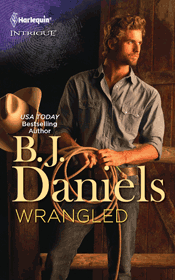 Dakota Lansing had a crush on cowboy Zane Chisholm when she was a kid. But when she moved away from Montana, she thought she would never see him again. When her father died, leaving behind a secret that shocked her, she had no choice but to return. Who knew that secret would bring Zane back into her life in a big way?
With both their lives in jeopardy, Dakota is forced to admit she never got over Zane. Targeted by unknown assailants, Zane discovers his mysterious connection to Dakota is much bigger than either suspected. Dakota isn't that cute kid who used to follow him around the rodeo grounds. She's now a feisty woman with some secrets of her own.
Meanwhile back at the ranch, Hoyt and Emma know that the mystery of the deaths of his former wives isn't over. What they don't know is that the killer is getting closer to Emma than they ever suspected.
PURCHASE ONLINE
Wrangled – Whitehorse Montana, Chisholm Cattle Company Series Book 6 of 6 June 2012; ISBN# 0373696205